Contact Cricket Hollow Labrador Retrievers
Email: Ask a Question
Chris Anderson
Galva, IL
(309) 932-2888
PLEASE use email chris @ luckydoglodge.com (take out the spaces) to contact me, I'm seldom near the phone and I will answer your email, I promise :-) If you don't hear from me within 24 hrs (my personal standard and one that is important to me) that means my stinkin' internet provider has lost a tower again. I've had instances of loss of service where I've been offline for several weeks - my apologies! Anyway, I've had some trouble with my response emails getting sent to folk's spam folders, so if you don't get an email from me, look there, or call me - darn email! I've also noticed emails sent to yahoo accounts tend to get rejected, so if you haven't heard from me in 24 hours, email again, or call :-) Gotta love technology!
Alternate email that I check a few times a week: luckydoglodge @ gmail.com (take out the spaces)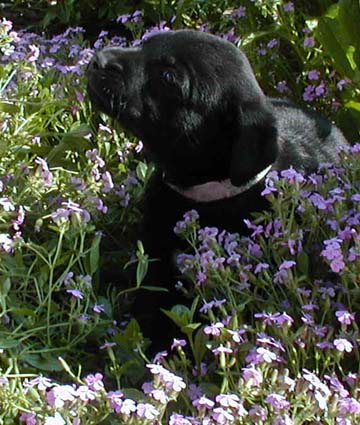 One of Genny's babies.
---
Copyright © 2002 Cricket Hollow Farm. All Rights Reserved.
No part of this site may be reproduced without permission.
Cricket Hollow Farm cannot warrant or assume any legal liability or responsibility for the accuracy, completeness, or usefulness of any information, apparatus, product, or process herein disclosed.